Business Firms are heading toward the world of Digital Media Marketing:
Due to the growing number of internet users day by day
With new platforms, websites and apps being released daily
One industry that we all deal with every day, in one way or another, that's going from strength to strength, it's this digital industry
Again the proof is in numbers – the future of business is in digital. Everyday life is now fueled by digital technologies, and businesses that have moved to cater to the digital consumer are among the most successful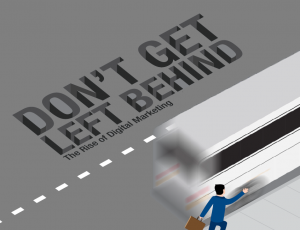 Digital Media Marketing & Ways to get into it?
Digital media marketing is not solely about the internet however; it is about, how the internet is used via the medium of any electronic device in order to market a business. This means that it is possible to digitally market a company through a desktop computer, mobile, TV, Tablet or a combination of many.
Digital media marketing is an exciting sector for candidates looking for a creative and varied career that is constantly evolving
As a digital marketer the world is your oyster – it won't always be certain what the next step is until you get there as Digital is constantly evolving, but you can be sure that there will always be growth in this area!
—
Start a blog, create a website or volunteer to do digital marketing for a local charity. When it comes time to interview, your prospective employers will likely Google you and review your social presence
Digital marketing idea can be gained by reading digital marketing specific blogs, following specific # hashtags on Twitter, attending local marketing meet-ups or webinars, finding a mentor within the industry, and simply learning by doing
If you are just out of school, you may have all the time in the world to complete a full-time course to obtain the knowledge you seek. However, if you are a busy professional, and time is stringent, you need to find a course that fits in with your schedule
Passionate, knowledgeable, and innovative –three skills that is very essential in digital marketing
Need to Learn Digital Media Marketing?
Look inside yourself – if you think you'd enjoy working on the cutting-edge of this Digital Business, then check out careers in Digital Marketing.
Digital media marketing is a course for min 3 to 6 months, as it comprises of both theory and live projects practical on all aspects of Digital Marketing i.e., Content, SEO, PPC, Email, Affiliate, Social Media & now Mobile Marketing. (
Live projects serve that purpose to help you know, how these things work in practice? If the course is all about theories, you may be deprived of such benefits. Therefore, the Digital Marketing course must have an ideal balance of theoretical and practical knowledge to provide optimum value with a justifiable duration. It'll help put your intellectual property to good use.
And for same, it's important to specialize early on either in SEO, PPC, Affiliate, Social Media or Analytics in individuality first, and then put your hands in learning others.
Why because? Having broad knowledge of digital marketing is helpful, but doesn't necessarily lead to multiple job offers. Businesses are getting savvier and more detailed with job requirements and being digital generalist is no longer the ideal way to go. Multiple disciplines within digital marketing exist, and it's a good idea to find a specialization early on. Mashable notes, "Once you have a base knowledge in each area of marketing, you'll be better equipped to choose a more specific path of focus. Having a specialty enables you to hone your skills in that area and become an expert, which is a valuable asset to potential employees."
Important to have a specialization: SEO | Google AdWords PPC | Digital Marketing
Choosing a career is a complicated process that is based on a number of things including your interests, skills, work-related values, and personality. Also to add a quote: "It takes only a minute to learn, but a lifetime to master" could just as easily be applied to Digital Marketing.
An inquisitive and curious approach to things. Students should observe every day trends consider the wider business implications and then think – how we can use that info for our campaigns.
An entrepreneurial style – always looking at how the next new thing can help to get our message out there.
Multi-tasker – there's always a million things going on in digital so wanting to work on single projects would not be compatible.
Good with numbers – analytics is key for digital.
Focused on the consumer – we don't want technology for technologies sake, we want to make life easier for the customer.
Avid consumer of digital – a blogger, website builder, tweeter etc. They should be living and breathing this information on a daily basis.

Read the rest of Business Firms are heading toward the World of…